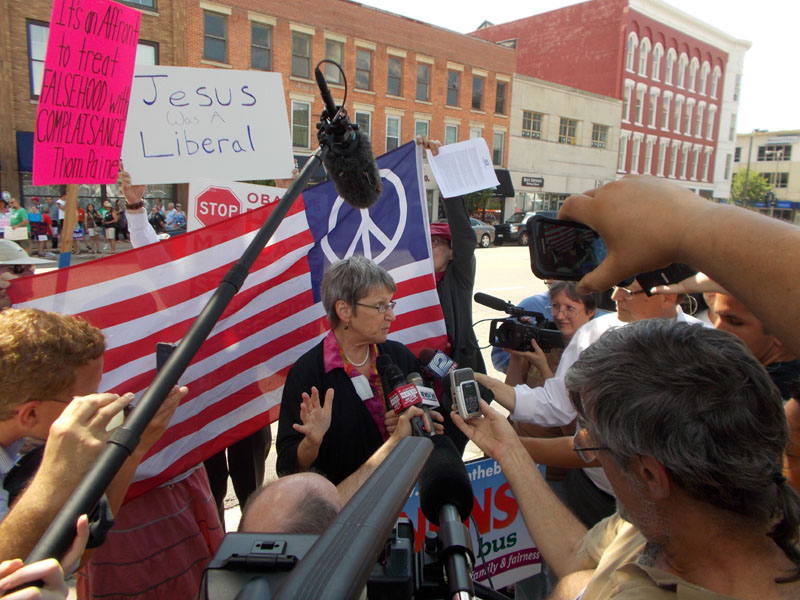 (Photo Credit: laetificatmadison.com)
By Marjorie Jeffrey (@MarjorieJeffrey)
The Nuns on the Bus, who rose to mediocrity last year with a bus tour denouncing Paul Ryan's "Path to Prosperity" budget plan, have returned to tell America their thoughts on immigration. The Nuns on the Bus is a project of NETWORK Lobby, a 42-year-old left-wing lobbying group that identifies itself as Catholic, but that has ties to the progressive, Soros-funded group, Faith In Public Life. NETWORK says that their mission is that of "lobbying, organizing and educating for a nation and world rooted in justice." You may recall that Sister Simone Campbell, who is the Executive Director of NETWORK, gave a speech to the Democratic National Convention last year as well, attacking House Republicans and Governor Romney, then candidate for President. In that speech, she claimed to stand both with the Catholic Bishops and with President Barack Obama, though she was in fact quoting committee chairmen at the U.S. Council of Catholic Bishops, not the opinions or statements of the bishops themselves. Before her speech, on the floor of the convention, when asked by a reporter whether or not abortion should be illegal, Sister Simone responded: "That's beyond my pay grade. I don't know."
Sister Simone's implicit endorsement of pro-choice politicians, of course, violates the teaching of the Church not to participate in intrinsic evil, and brings public scandal to the faith.  She belongs to the Leadership Conference of Women Religious (LCWR), a group censured last year by a Doctrinal Assessment by the Congregation for the Doctrine of the Faith, which found that the group had "serious doctrinal problems." One of those problems is their yearly conference, which has grown increasingly bizarre in recent years, and which the Assessment said exhibited ""radical feminist themes incompatible with the Catholic faith". One of the suggestions made in the Doctrinal Assessment was that women religious leaders ought not to be associated with NETWORK Lobby, or groups like it. Pope Francis has reaffirmed the findings of the Congregation and is continuing the call for reform. Sister Simone, however, has stated that she believes that the censure "has always been about politics."
Sister Simone is a political activist first and foremost, and a useful mouthpiece for the progressive left, particularly when used as a Catholic to attack the Catholic Church. However, this time around on the bus, she may appear to be on firmer ground; many prominent members of the Church, clergy and lay, have voiced their support for immigration reform, and spearheading the Gang of Eight's Senate bill is conservative, sometimes Catholic Marco Rubio. But while Sister Simone and her 'nuns' (who are not 'nuns' at all) refuse to take hard positions on the Catholic non-negotiables (abortion, homosexual marriage, etc), they spend their time promoting causes which they pretend are non-negotiable. Care for the poor, for example, is a Christian mandate, but there are reasonable disagreements to be had about the best way to care for the poor, and the role of government in that activity. Immigration is another such issue; there are defensible views that Catholics can hold on both sides of the immigration question.
There seems to be a great deal of confusion, some of it intentionally caused by groups like NETWORK, about whether the Church ought to lay down judgments about political matters. Of course, the Church can and ought to say that murder is wrong and that charity is right, because those are dogmatically true things. But C.S. Lewis considered this question years ago:
People say, "The Church ought to give us a lead." That is true if they mean it in the right way, but false if the mean it in the wrong way. By the Church they ought to mean the whole body of practicing Christians. And when they say that the Church should give us a lead, they ought to mean that some Christians — those who happen to have the right talents — should be economists and statesmen, and that all economists and statesmen should be Christians, and that their whole efforts in politics and economics should be directed to putting "Do as you would be done by" into action. If that happened, and if we others were really ready to take it, then we should find the Christian solution for our own social problems pretty quickly. But, of course, when they ask for a lead from the Church most people mean they want the clergy to put out a political program. That is silly. The clergy are those particular people within the whole Church who have been specially trained and set aside to look after what concerns us as creatures who are going to live forever: and we are asking them to do a quite different job for which they have not been trained. The job is really on us, on the laymen. The application of Christian principles, say, to trade unionism and education, must come from Christian trade unionists and Christian schoolmasters; just as Christian literature comes from Christian novelists and dramatists–not from the bench of bishops getting together and trying to write plays and novels in their spare time.
Mere Christianity (Book 3, Chapter 3)
Regardless, the Nuns on the Bus have chosen immigration as their issue du jour. On the official website for the "Nuns on the Bus" is a friendly endorsement from Senator Dick Durbin, author of the original Dream Act, and member of the Senate Gang of Eight, who are behind the current amnesty bill. Sen. Durbin, who claims to be a practicing Catholic, is a hard-line pro-choice politician, and has been denied the sacraments by his home parish.
The very nature of this issue is giving way to an insidious development: their ongoing immigration bus tour is giving the Nuns on the Bus a platform with which to reach faithful Catholics, Catholics who may not know the heretical ties of the organization. It is giving the Nuns on the Bus face time with Catholic leaders and blessings of some priests and bishops, the very bishops they defied last year. Whatever the true intentions of Sister Simone and her 'nuns' may be, it ought not to be forgotten that NETWORK is first and foremost a liberal lobbying group, deeply intertwined with other progressive activist organizations and used by left-wing politicians to push their agenda.